New Zealand Rosemary Lamb Shanks
Posted by Haley Thomas on Tuesday, November 29, 2022 at 11:31:29 AM
By Haley Thomas / November 29, 2022
Comment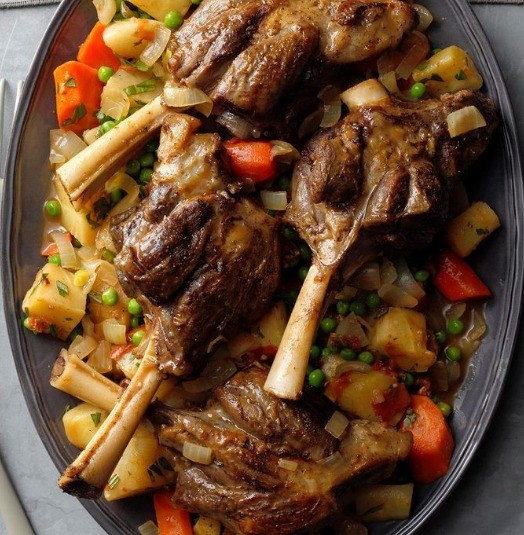 Ingredients
1 teaspoon salt
3/4 teaspoon pepper
4 lamb shanks (about 20 ounces each)
1 tablespoon butter
1/2 cup white wine
3 medium parsnips, peeled and cut into 1-inch chunks
2 large carrots, peeled and cut into 1-inch chunks
2 medium turnips, peeled and cut into 1-inch chunks
2 large tomatoes, chopped
1 large onion, chopped
4 garlic cloves, minced
2 cups beef broth
1 package (10 ounces) frozen peas, thawed
1/3 cup chopped fresh parsley
2 tablespoons minced fresh rosemary
Directions
Rub salt and pepper over lamb. In a large skillet, heat butter over medium-high heat; brown meat. Transfer meat to a 6- or 7-qt. slow cooker. Add wine to skillet; cook and stir 1 minute to loosen brown bits. Pour over lamb. Add the parsnips, carrots, turnips, tomatoes, onion, garlic and broth. Cook, covered, on low 6-8 hours or until meat is tender.
Remove lamb; keep warm. Stir in peas, parsley and rosemary; heat through. Serve lamb with vegetables.
Nutrition Facts
1/2 lamb shank with 1 cup vegetables: 350 calories, 15g fat (6g saturated fat), 103mg cholesterol, 668mg sodium, 22g carbohydrate (8g sugars, 6g fiber), 31g protein. Diabetic Exchanges: 4 lean meat, 1 starch, 1 vegetable, 1/2 fat.