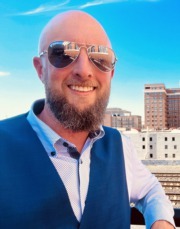 My name is Aaron Reugh and I was born and raised here in Spokane.  My time was spent between the lakes of North Idaho and the areas mountains, where I learned to ski at Mt. Spokane.  I attended Ferris High School and graduated in 2001.  From there I joined the US Navy as a Fire Controlman and worked on Air Defense Radar Systems, spending time in Chicago, Washington DC, and ultimately San Diego.
After leaving the Navy in 2012, I moved back home and have worked in Real Estate.  First as a Commercial Broker for NAI Black, now as a residential broker for Synergy Properties.  During my time in real estate I also became a licensed home inspector, running my own company for a number of years, while continuing to work in real estate.  I eventually came to the conclusion that I didnt not want to spend my days climbing in and out of attics and crawlspaces, and climbing on to roofs, so I shut down the home inspection company and focused back primarily on real estate.
I love my city, and my job as well. I look forward to working with great people to help as many people as possible find a place to make Spokane home for them as well.